audi s5 tuning
ABT, a Euro tuning house, has been up to all sorts of fun/crazy stuff these days, a heavily modded VW Scirocco Coupe and a worked over Audi Q5 and R8 to mention three. They continue on in that vein with their new massaged Audi S5, which they dub the AS5-R and whose most outstanding feature is 510HP.
The AS5-R makes its debut at next month's Geneva Show. The ABT version of the A5 coupe includes an updated version of the current S5's 344HP 4.2-liter V8 engine, modified to crank out 510-horsepower. ABT is staying schtum on any more info on the AS5-R, but aside from the massaged engine, you'll also notice a new body kit, larger alloy wheels along with a modified suspension and a more powerful braking system. About what you'd expect.
The AS5-R also keeps up with ABT's current black on white look that has been rolling out of their shops for the past year or so. Quite fetching, actually, and it still plays to the Euro fascination with flat black, or matte black, or satin black, or however they're trying to dress up the term and avoid calling it "primer black". Anyway, a nice hot rod feel.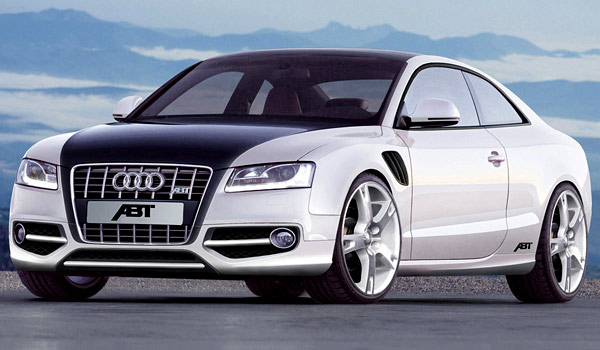 audi s5 tuning